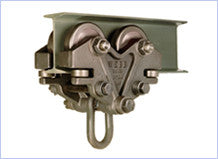 Hand Pushed Trolley (Cap. 4000#), Part # 8363
This two-ton capacity trolley may be used on 6", 8", 10" and 12" I-beams. Standard features include side guide rollers to prevent unnecessary wear on track and trolley, extended and flanges for added safety, and a rugged cast iron body construction. Trolleys are equipped with a triple labyrinth seal, and wheels are bolted for easy replacement.

Ships in: 3-5 days

Click here for part dimensions and more information.
Can't find a part?
All of Webb's parts are not available online. Please check our
catalog
for a more extensive listing or e-mail
webbparts@jerviswebb.com
 for more information.
---
More from this collection