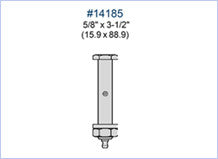 Bolt Kit - 16487, 57015, 56567 (1 each), Part # 14185
These roller turn roller bolts include a bolt with grease fitting, shake proof washer and jam nut. These bolts are designed for a 3 1/2" x 5/8" bore ball or tapered roller bearing rollers.

Ships in: 3-5 days

Click here for part dimensions and more information.
Can't find a part?
All of Webb's parts are not available online. Please check our
catalog
for a more extensive listing or e-mail
webbparts@jerviswebb.com
 for more information.
---
More from this collection