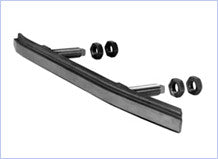 Back-up Bar Kit includes: (1) 100371, (2) 10694, and (4) 56576, Part # 14191
The backup bar supports the engagement of the drive Caterpillar Chain into the conveyor chain. The assembly includes one backup bar, two backup bar studs and four backup bar nuts.

Ships in: 3-5 days

Click here for part dimensions and more information.
Can't find a part?
All of Webb's parts are not available online. Please check our
catalog
for a more extensive listing or e-mail
webbparts@jerviswebb.com
 for more information.
---
More from this collection