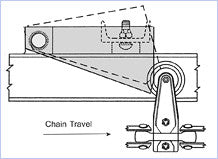 4" Chain Anti Back-up Device, Part # 8702
Designed for 4" I-beam systems, these anti-backup devices prevent trolleys from rolling backwards on vertical inclines. Anti-backup stop arms are mechanically lifted by the passing trolley brackets as they ride up the incline. Should the power fail, the stop arms will provide a positive stop. Stop arms are equipped with rubber bumpers to reduce noise.

Ships in: 3-5 days

Click here for part dimensions and more information.
Can't find a part?
All of Webb's parts are not available online. Please check our
catalog
for a more extensive listing or e-mail
webbparts@jerviswebb.com
 for more information.
---
More from this collection