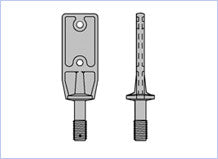 (1) 4221 - 4" "B" Attachment with (1) Nut (56551) and (1) Cotter (56074), Part # 241066
The primary use for this attachment is to support the #9484 load bar, but it also is used for many other applications. Includes the attachment, one nut, and one cotter pin.

Ships in: 10 days

Click here for part dimensions and more information.
Can't find a part?
All of Webb's parts are not available online. Please check our
catalog
for a more extensive listing or e-mail
webbparts@jerviswebb.com
 for more information.
---
More from this collection