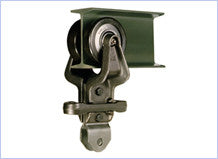 6" Trolley w/"H" Attach & Hardware - 10" Drop, Part # 230022
This 6" trolley has a load capacity of 1,200 pounds per single trolley with a load bar of 2400 pounds. This trolley assembly consists of two half trolleys and a standard "H" attachment. The trolley wheels are swaged to the trolley bracket.

Ships in: 3-5 days

Click here for part dimensions and more information.
Can't find a part?
All of Webb's parts are not available online. Please check our
catalog
for a more extensive listing or e-mail
webbparts@jerviswebb.com
 for more information.
---
More from this collection