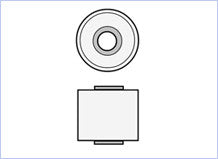 Heavy Duty Roller (3/4" bore) Kit - (1) 9873, (2) 10216 Dust Cap, Part # 16580
This 2 13/16" x 3/4" bore heavy-duty roller turn roller has precision tight tapered roller bearings and full contact grease seals. It is especially designed for heavy-duty applications using 4" or 6" chain. This heavy-duty roller includes one roller and two dust caps.

Ships in: 3-5 days

Click here for part dimensions and more information.
Can't find a part?
All of Webb's parts are not available online. Please check our
catalog
for a more extensive listing or e-mail
webbparts@jerviswebb.com
 for more information.
---
More from this collection