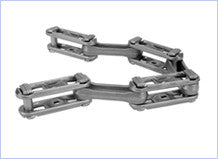 X-458 Rivetless Chain Ass'y (10'-0"), Part # 13613
X-458 chain components are drop forged from high-strength steel, precision forged and finished. Webb rivetless chain provides the smoothest chain pin bearing surface in the industry, minimizing the initial break-in period. All chain parts are hardened to increase resistance to wear, corrosion, abrasive action, and shock loads.

Ships in: 3-5 days

Click here for part dimensions and more information.
Can't find a part?
All of Webb's parts are not available online. Please check our
catalog
for a more extensive listing or e-mail
webbparts@jerviswebb.com
 for more information.
---
More from this collection